Unless you've been living under a rock for the last 6 months you probably know that Forza 7 is literally just around the corner.
What you might not realise is that Forza 7 isn't just another Xbox Exclusive, this time it will be a multi-platform title releasing on both Xbox One and Windows 10 PC's at the same time

 Also if you buy the digital version you will be able to download the game along with the DLC to either your Windows 10 PC or your Xbox One console or heaven forbid you could even download it to both

 It doesn't stop there, regardless of what platform your using multiplayer is available cross-platform so PC and Xbox Gamer's can play together.  Also your saved game can be accessed from either platform because it's always available from the Microsoft Cloud.
Okay so now your ready to start crying out "But what about Horizon 3???"  While it's true that Forza Horizon 3 released as a cross platform title last year it didn't really affect sites like ours because that game isn't really designed for organised racing.
But Forza Horizon 3 did show us that the concept works, in fact the first time I joined a friend that was playing on Xbox from my PC version I literally had to pinch myself, it just worked flawlessly and without any real issues.
So what does that mean for the FMC?  Well quite a lot really, for me it means I get to play the game whenever I want and not just when the wife's not using the TV.  It also means we can introduce PC gamers to this site, it's surprising how many of them have been waiting for a game like this and the level of competition this site has to offer.
Feel free to use this thread to post your thoughts and share news about the upcoming game.
_________________


Nelly D Racer

Rookie





Posts

: 74


Join date

: 2015-12-26


Age

: 42



Turn 10 reveals the first 167 cars from Forza 7:

The latest instalment in the Forza racing game series, Forza Motorsport 7, will feature more cars than any of the past titles, at over 700 cars. In the lead-up to the game's release, Turn 10 Studios and Microsoft will be revealing portions of the massive car list. The first chunk is a whopping 167 cars, and it features super-car's, track machines, and race-cars.

The most numerous automaker on the list is Ferrari, with 46 cars. It includes everything from a 1948 Ferrari 166MM Barchetta to the Ferrari LaFerrari. It's followed by Porsche, with 29 models including both the 918 Spyder and the 700-horsepower 911 GT2 that made its debut at the Xbox E3 conference. Aston Martin and Lamborghini each have strong showings, too, with 14 and 18 cars respectively. There are a wealth of racecars from McLaren as well, including Ayrton Senna's 1988 F1 car. Aside from major super-car builders, there are many smaller marques including Koenigsegg, Lykan, Pagani, Noble, Donkervoort, and more. Check out the full list below.

2013 Ariel Atom 500 V8
2016 Ariel Nomad
1958 Aston Martin DBR1
1960 Aston Martin DB4GT Zagato
1964 Aston Martin DB5
1977 Aston Martin V8 Vantage
1998 Aston Martin V8 Vantage V600
2006 Aston Martin #007 Aston Martin Racing DBR9
2008 Aston Martin DBS
2010 Aston Martin One-77
2012 Aston Martin V12 Zagato
2012 Aston Martin Vanquish
2013 Aston Martin V12 Vantage S
2016 Aston Martin Vantage GT12
2016 Aston Martin Vulcan
2017 Aston Martin DB11
2014 BAC Mono
1992 Bugatti EB110 Super Sport
2011 Bugatti Veyron Super Sport
2013 Donkervoort D8 GTO
1948 Ferrari 166MM Barchetta
1952 Ferrari 375
1953 Ferrari 500 Mondial
1957 Ferrari 250 California
1957 Ferrari 250 Testa Rossa
1962 Ferrari 250 GT Berlinetta Lusso
1962 Ferrari 250 GTO
1963 Ferrari 250LM
1964 Ferrari F-158 F1
1967 Ferrari #24 Ferrari Spa 330 P4
1968 Ferrari 365 GTB/4
1969 Ferrari Dino 246 GT
1971 Ferrari #2 Ferrari Automobili 312 P
1976 Ferrari #1 Scuderia Ferrari 312T2
1982 Ferrari #71 Ferrari France 512 BB/LM
1982 Ferrari #72 N.A.R.T. 512 BB/LM
1984 Ferrari 288 GTO
1987 Ferrari F40
1989 Ferrari F40 Competizione
1990 Ferrari #1 Scuderia Ferrari 641
1992 Ferrari 512 TR
1994 Ferrari F355 Berlinetta
1995 Ferrari F50
1996 Ferrari F50 GT
1998 Ferrari #12 Risi Competizione F333 SP
1998 Ferrari #30 MOMO Doran Racing F333 SP
2002 Ferrari 575M Maranello
2002 Ferrari Enzo Ferrari
2003 Ferrari 360 Challenge Stradale
2004 Ferrari 612 Scaglietti
2007 Ferrari 430 Scuderia
2008 Ferrari California
2009 Ferrari 458 Italia
2010 Ferrari 599 GTO
2010 Ferrari 599XX
2011 Ferrari #62 Risi Competizione 458 Italia GTC
2011 Ferrari FF
2012 Ferrari F12berlinetta
2013 Ferrari 458 Speciale
2013 Ferrari LaFerrari
2014 Ferrari #51 AF Corse 458 Italia GTE
2014 Ferrari #62 Risi Competizione 458 Italia GTLM
2014 Ferrari California T
2014 Ferrari FXX K
2015 Ferrari 488 GTB
2015 Ferrari F12tdf
2012 Hennessey Venom GT
2011 Koenigsegg Agera
2015 Koenigsegg One:1
2016 Koenigsegg Regera
2013 KTM X-Bow R
1967 Lamborghini Miura P400
1986 Lamborghini LM 002
1988 Lamborghini Countach LP5000 QV
1988 Lamborghini Jalpa
1997 Lamborghini Diablo SV
2008 Lamborghini Reventón
2010 Lamborghini Murciélago LP 670-4 SV
2011 Lamborghini Gallardo LP 570-4 Superleggera
2011 Lamborghini Sesto Elemento
2012 Lamborghini Aventador LP700-4
2013 Lamborghini Veneno
2014 Lamborghini #14 GMG Racing LP 570-4 Super Trofeo
2014 Lamborghini #18 DragonSpeed Gallardo LP 570-4 Super Trofeo
2014 Lamborghini Huracán LP 610-4
2014 Lamborghini Urus
2015 Lamborghini #63 Squadra Corse Huracán LP620-2 Super Trofeo
2016 Lamborghini Aventador LP750-4 SV
2016 Lamborghini Centenario LP 770-4
1956 Lotus Eleven
1966 Ford Lotus Cortina
1967 Lotus Type 49
1971 Lotus Elan Sprint
1976 Lotus #5 Team Lotus 77
1990 Vauxhall Lotus Carlton
1999 Lotus Elise Series 1 Sport 190
2000 Lotus 340R
2002 Lotus Esprit V8
2005 Lotus Elise 111S
2009 Lotus 2-Eleven
2011 Lotus Evora S
2012 Lotus Exige S
2016 Lotus 3-Eleven
1939 Maserati 8CTF
1953 Maserati A6GCS/53 Pininfarina Berlinetta
1957 Maserati 300 S
1961 Maserati Tipo 61 Birdcage
1997 Maserati Ghibli Cup
2004 Maserati MC12
2010 Maserati Gran Turismo S
2014 Maserati #35 M.Calamia Swiss Team MC Trofeo
2014 Maserati Ghibli S Q4
1966 McLaren M2B
1969 McLaren #4 McLaren Cars M8B
1976 McLaren #11 Team McLaren M23
1988 McLaren #12 Honda McLaren MP4/4
1993 McLaren F1
1997 McLaren F1 GT
2011 McLaren #59 McLaren GT 12C GT3
2011 McLaren 12C
2013 McLaren P1
2014 McLaren #60 Bhaitech 12C GT3
2015 McLaren 570S Coupé
2015 McLaren 650S Coupe
2015 McLaren P1 GTR
2010 Noble M600
2009 Pagani Zonda Cinque Roadster
2010 Pagani Zonda R
2012 Pagani Huayra
2016 Pagani Huayra BC
1955 Porsche 550A Spyder
1957 Porsche 356A Speedster
1960 Porsche 718 RS 60
1970 Porsche 914/6
1973 Porsche 911 Carrera RS
1982 Porsche 911 Turbo 3.3
1987 Porsche #17 Porsche AG 962C
1987 Porsche #17 Porsche Dunlop 962C
1987 Porsche 959
1989 Porsche 944 Turbo
1993 Porsche 928 GTS
1995 Porsche 911 GT2
1998 Porsche 911 GT1 Strassenversion
2003 Porsche Carrera GT
2004 Porsche 911 GT3 (996)
2008 Porsche #7 Penske Racing RS Spyder Evo
2011 Porsche #45 Flying Lizard 911 GT3-RSR
2012 Porsche 911 GT2 RS
2012 Porsche 911 GT3 RS 4.0
2012 Porsche Cayenne Turbo
2014 Porsche 911 Turbo S
2014 Porsche 918 Spyder
2015 Porsche #19 Porsche Team 919 Hybrid
2015 Porsche Macan Turbo
2016 Porsche 911 GT3 RS
2016 Porsche Cayman GT4
2017 Porsche #1 Porsche Team 919 Hybrid
2017 Porsche Panamera Turbo
2018 Porsche 911 GT2 RS
2011 Radical SR8 RX
2015 Radical RXC Turbo
2004 Saleen S7
2016 Spania GTA GTA Spano
2005 TVR Sagaris
2015 Ultima Evolution Coupe 1020
2016 W Motors Lykan HyperSport
2016 Zenvo TS1
_________________


Nelly D Racer

Rookie





Posts

: 74


Join date

: 2015-12-26


Age

: 42



Second batch of Forza Motorsport 7 cars have been revealed

1968 Abarth 595 esseesse
1934 Alfa Romeo P3
1950 Alfa Romeo 158
1965 Alfa Romeo Giulia Sprint GTA Stradale
1965 Alfa Romeo Giulia TZ2
1968 Alfa Romeo 33 Stradale
1939 Auto Union Type D
1959 BMW 507
1957 BMW Isetta 300 Export
1953 Chevrolet Corvette
1957 Chevrolet Bel Air
1960 Chevrolet Corvette
1964 Chevrolet Impala Super Sport 409
1966 Chevrolet Nova Super Sport
1967 Chevrolet Chevelle Super Sport 396
1967 Chevrolet Corvette Stingray 427
1969 Chevrolet Camaro Super Sport Coupe
1969 Chevrolet Nova Super Sport 396
1969 Datsun 2000 Roadster
1967 Dodge Coronet WO23
1968 Dodge Dart HEMI Super Stock
1969 Dodge Charger Daytona HEMI
1969 Dodge Charger R/T
1969 Fiat Dino 2.4 Coupe
1952 Fiat 8V Supersonic
1932 Ford De Luxe Five-Window Coupe
1940 Ford De Luxe Coupe
1946 Ford Super Deluxe Station Wagon
1964 Ford Fairlane Thunderbolt
1965 Ford Mustang GT Coupe
1967 Ford Falcon XR GT
1969 Ford Mustang Boss 302
1951 Holden 50-2106 FX Ute
1967 Honda RA300
1959 Jaguar Mk II 3.8
1961 Jaguar E-type S1
1956 Jaguar D-Type
1954 Jaguar XK120 SE
1945 Jeep Willys MB
1968 Lancia Fulvia Coupé Rallye 1.6 HF
1939 Mercedes-Benz W154
1954 Mercedes-Benz 300 SL Coupé
1955 Mercedes-Benz 300 SLR
1967 Mercedes-Benz 280 SL
1949 Mercury Coupe
1965 MINI Cooper S
1969 Nissan Fairlady Z 432
1966 Nissan Silvia
1969 Oldsmobile Hurst/Olds 442
1968 Opel GT
1958 Plymouth Fury
1965 Pontiac GTO
1969 Pontiac Firebird Trans Am
1969 Pontiac GTO Judge
1965 Shelby Cobra 427 S/C
1965 Shelby Cobra Daytona Coupe
1963 Volkswagen Beetle
1963 Volkswagen Type 2 De Luxe
1967 Volkswagen Karmann Ghia
1967 Volvo 123GT
_________________


Nelly D Racer

Rookie





Posts

: 74


Join date

: 2015-12-26


Age

: 42



PC Gamers will not be welcome to the FMC. PC gamers have an unfair advantage called greater control in game then console gamers have.

Lothar

Admin





Posts

: 183


Join date

: 2015-12-26



Lothar wrote:PC Gamers will not be welcome to the FMC. PC gamers have an unfair advantage called greater control in game then console gamers have.
Well I guess this is goodbye then



_________________


Nelly D Racer

Rookie





Posts

: 74


Join date

: 2015-12-26


Age

: 42



I am assuming that the Nascar Stock Cars and maybe 2 oval tracks will be another DLC.....6 months after the game comes out??

 Nascar Heat 2....here I come!!
OneFastRedneck wrote:I am assuming that the Nascar Stock Cars and maybe 2 oval tracks will be another DLC.....6 months after the game comes out??

 Nascar Heat 2....here I come!!
From what I heard all tracks from Forza 6 will be in Forza 7 plus tracks like Suzuka, Maple Valley and Mugello are coming back and whatever new ones get announced along the way.
As for cars these first two lists are just the tip of the iceberg they've got another 500 cars to announce yet.
_________________


Nelly D Racer

Rookie





Posts

: 74


Join date

: 2015-12-26


Age

: 42



Forza Garage Week 3
Welcome to The Forza Garage, our weekly look at the 700+ cars coming to Forza Motorsport 7 at launch. A huge part of any Forza game is the chance to express yourself – whether you love painting cars with gorgeous liveries or creating custom builds and tunes that can transform a good car into a great one. This week, in addition to announcing a massive collection of JDM vehicles – 77 in total – we're also turning the spotlight on the body customization options available to players in Forza Motorsport 7
For the first time in the Forza Motorsport series, we're bringing wide-body kits to a number of cars in Forza 7. A select number of kits are completely bespoke and designed in-house here at Turn 10; from underground-inspired designs to aero-enhanced modeled after professional motorsport. In addition, numerous body-kit options from Forza Horizon 3 will also be available in Forza Motorsport 7, including Upgrade Heroes like the Nissan S14 and the 240SX SE announced today.
Wheel options will be abundant in Forza Motorsport 7. In addition to bringing over a number of the new-entry wheels from Forza Horizon 3, we're adding a selection of new race-inspired wheels. Whether you're building your favorite car for yourself or you want to establish your reputation as a master in the Forza Motorsport 7 tuning scene by sharing your masterpiece on the Auction House, now you'll have more options than ever to build the cars of your dreams.
2016 Honda Civic Type R
For car fans, seeing the letter "R" on a car usually means something special. In the case of the Civic Type R, "R" means "racing," as in race-bred. Honda didn't just slap some logos and some wheels on this specification either. That "R" may as well also stand for "ridiculous" horsepower – as in more than 300hp. Take one look at the sleek and aggressive aero kit and the "R" can easily stand for "radical." From the torque-steer limiting dual-axis strut suspension, to the mechanical front differential and the Brembo brakes, this Civic Type R is just what Honda fans, and Forza fans, have been waiting for.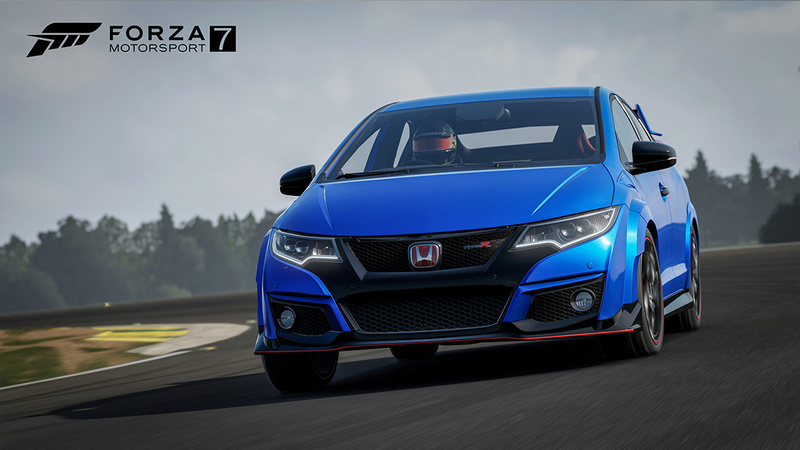 2017 Acura NSX
The new Acura NSX may be a hybrid, but it's a hybrid supercar, a mid-engine, all-wheel-drive, twin-turbo hybrid slice of pure performance perfection. With around 600 hp from its combined 3.5-liter V6 and three electric motors driving all four wheels, you have a balanced and capable car that can compete with other supercars nearly ten times its price. There are nine gears to work your way through as you pass 60 mph in just over three seconds and torque-vectoring to smooth you through the curves. For decades "NSX" has been synonymous with serious performance; lucky for us, the 2017 NSX more than measures up to its famous name.
Here's a look at the cars we're announcing this week:
The Forza Garage - Week 3
2001 Acura Integra Type-R
2002 Acura RSX Type-S
2017 Acura NSX
1970 Honda S800
1984 Honda Civic CRX Mugen
1986 Honda Civic Si
1991 Honda CR-X SiR
1992 Honda NSX-R
1994 Honda Prelude Si
1997 Honda Civic Type R
2000 Honda Prelude Type SH
2004 Honda Civic Type-R
2005 Honda NSX-R
2007 Honda Civic Type-R
2009 Honda S2000 CR
2014 Honda Civic Si
2016 Honda Civic Type R
2003 Infiniti G35 Coupe
2012 Infiniti IPL G Coupe
2014 Infiniti Q50 Eau Rouge
2015 Infiniti Q60 Concept
1972 Mazda Cosmo 110S Series II
1973 Mazda RX-3
1985 Mazda RX-7 GSL-SE
1990 Mazda MX-5 Miata
1990 Mazda Savanna RX-7
1994 Mazda MX-5 Miata
1997 Mazda RX-7
2005 Mazda Mazdaspeed MX-5
2010 Mazda Mazdaspeed 3
2010 Mazda MX-5 Super20
2011 Mazda RX-8 R3
2013 Mazda MX-5
2013 Mazda MX-5 Cup
2016 Mazda MX-5
1988 Mitsubishi Starion ESI-R
1992 Mitsubishi Galant VR-4
1995 Mitsubishi Eclipse GSX
1997 Mitsubishi GTO
1999 Mitsubishi Lancer Evolution VI GSR
2004 Mitsubishi Lancer Evolution VIII MR
2006 Mitsubishi Lancer Evolution IX MR
2008 Mitsubishi Lancer Evolution X GSR
1970 Datsun 510
1971 Nissan Skyline 2000GT-R
1973 Nissan Skyline H/T 2000GT-R
1987 Nissan Skyline GTS-R (R31)
1992 Nissan Silvia CLUB K's
1993 Nissan 240SX SE
1993 Nissan Skyline GT-R V-Spec
1994 Nissan Fairlady Z Version S Twin Turbo
1994 Nissan Silvia K's
1995 Nissan NISMO GT-R LM
1997 Nissan Skyline GT-R V-Spec
1998 Nissan R390
1998 Nissan Silvia K's Aero
2000 Nissan Silvia Spec-R
2002 Nissan Skyline GT-R V-Spec II
2003 Nissan Fairlady Z
2010 Nissan 370Z
2012 Nissan GT-R Black Edition
2007 Toyota Hilux Arctic Trucks AT38
2014 Nissan Juke Nismo RS
2015 Nissan IDx NISMO
2016 Nissan Titan Warrior Concept
2017 Nissan GT-R
1980 Subaru BRAT GL
1990 Subaru Legacy RS
1996 Subaru SVX
1998 Subaru Impreza 22B STi
2004 Subaru Impreza WRX STi
2005 Subaru Impreza WRX STI
2005 Subaru Legacy B4 2.0 GT
2008 Subaru Impreza WRX STi
2011 Subaru WRX STI
2013 Subaru BRZ
2015 Subaru WRX STI
_________________


Nelly D Racer

Rookie





Posts

: 74


Join date

: 2015-12-26


Age

: 42



Still no 1990 Geo Metro? Not buying
_________________
redbarchetta20
Driver, owner of Red Barchetta Racing
#53 Mobil 1/ Bass Pro Shops Ford Fusion
Also, this is a giraffe >>>>>


redbarchetta14

Rookie





Posts

: 13


Join date

: 2011-07-28


Age

: 23


Location

: United States



redbarchetta14 wrote:Still no 1990 Geo Metro? Not buying
It was top of Turn 10's list but unfortunately this was the best one they could find....
_________________


Nelly D Racer

Rookie





Posts

: 74


Join date

: 2015-12-26


Age

: 42



OneFastRedneck wrote:I am assuming that the Nascar Stock Cars and maybe 2 oval tracks will be another DLC.....6 months after the game comes out??

 Nascar Heat 2....here I come!!
All stock cars are in with some new liveries. Still same ovals right now though.
_________________

BOOST

Pro





Posts

: 186


Join date

: 2010-01-17


Age

: 35


Location

: Pinellas Park FL




---
Permissions in this forum:
You
cannot
reply to topics in this forum